The SHOWCASE below is a write up on (and was copied directly from) the FCPS Food and Nutrition Services (FNS) website.  Thanks to our partners at FNS for posting this – and sharing the photos!  We would love to show you the kids happily eating the apples and listen to Katlyn talk about the orchards and growing apples – but we cannot without parental permission.
FCPS NUTRITION SERVICES SHOWCASE
FCPS Food and Nutrition Services is partnering with Farm to School Frederick Maryland to bring more local fresh fruits and vegetables to our schools.
We held our first 2 local-food taste tests at Lincoln Elementary School on March 8th and Monocacy Elementary School on March 29th featuring apples from Catoctin Mountain Orchard. We tried a twist with these local apples and wedged them to see if this would help get more apple into our students' bellies and less apple into the trash. Students even got a lesson on how and when apples grow from Farmer Katlyn Robertson!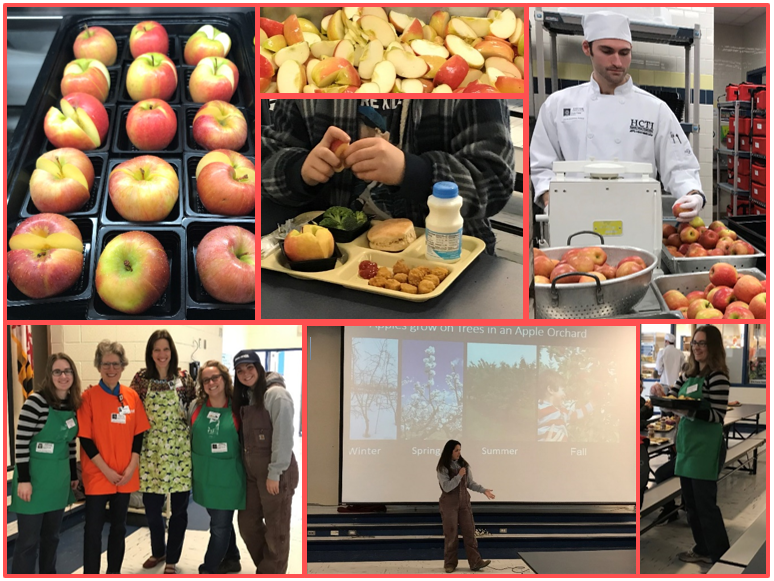 With the help of Catoctin Mountain Orchard and Farmer Katlyn Robertson, Community FARE, the Frederick County branch of the University of Maryland Extension Office, Frederick Community College Hospitality Program, and Frederick Memorial Hospital's Community Health and 5210 Program, kids at Lincoln Elementary got to taste local Pink Lady and Ever Crisp apples. We have partnered with Catoctin Mountain Orchard for over 10 years to serve local apples, peaches, plums, pears and even Kiwi Berries. 
Good nutrition and learning go hand in hand! The Nutrition Services department is made up of a team of food and nutrition professionals that are dedicated to students' health, well being and their ability to learn. We support learning by promoting healthy habits for lifelong nutrition and fitness.
Meals, foods and beverages sold or served at schools meet state and federal requirements which are based on the USDA Dietary Guidelines. We provide students with access to a variety of affordable and appealing foods that meet the health and nutrition needs of students.